Realtors® Care Day Event Details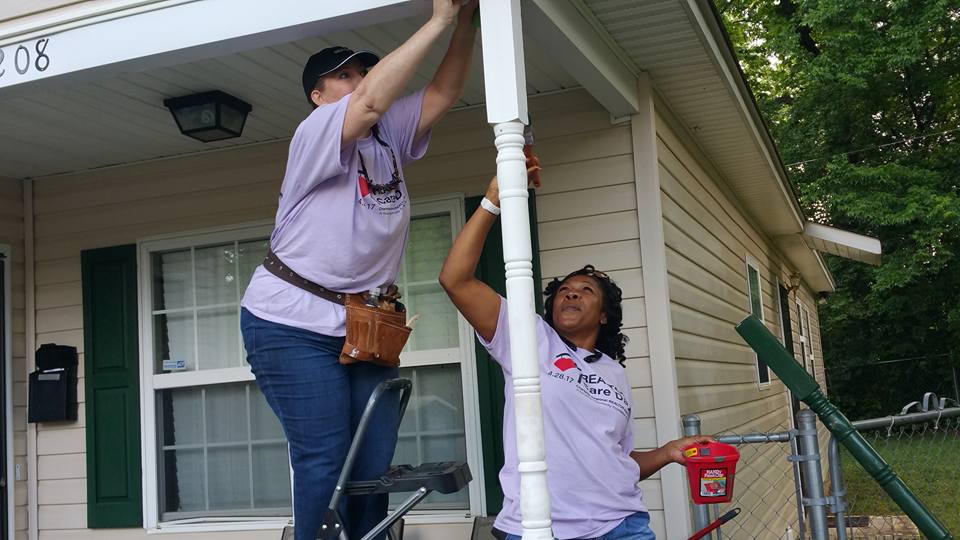 What is Realtors® Care Day?
Realtors® Care Day is a community-wide home repair project that assists homeowners annually with exterior home repairs and provides adaptive and safety modifications for those in need. Participating homeowners are identified by regional Habitat for Humanity chapters, the City of Charlotte and other housing partners. The 2020 Realtors® Care Day project is April 24, 2020.
Since 2009, thousands of Realtor® volunteers have come together each year to help repair homes in our community. Equipped with hammers and nails, and armed with a passion to give back, Realtor® crews repair gutters, paint home exteriors and undertake a host of other exterior repairs.
Realtors® Care Day is an initiative of the Canopy Housing Foundation.
Why does the association do this?
Faced with today's economic challenges, many homeowners are forced to choose between paying their mortgage payment and performing basic home repairs. While it is impossible to help everyone, Realtors® make a significant impact for our community members who are elderly and disabled, and for others living in unsafe or substandard conditions. During the life of the project, 271 homeowners and non-profits have received much-needed repairs. Volunteer efforts represent a financial impact exceeding $1,000,000.
Where does Realtor® Care Day happen?
Home repairs take place during the day-long project in Mecklenburg and Iredell counties.
Who participates?
Hundreds of local Realtors® volunteer for the project each year. While volunteer opportunities are limited to Realtors®, the project requires professional assistance from builders, developers and other professionals such as painters, roofers and home inspectors. Participating homeowners join in the day's activities as they are able.
Who are we helping?
Canopy Housing Foundation collaborates with community housing advocates and nonprofits to identify homeowners who are in need and meet the criteria for support.
How can I help?
Realtors® are needed to volunteer to work on the homes. Volunteers are kept informed through e-blasts that provide updates and work assignment confirmations in early- to mid-April. All volunteers must be Realtors® and members of the Charlotte Regional Realtor® Association. Non-member individuals and organizations can provide support through sponsorship, contributions and donations.
Thank you to all our volunteer Realtors®, the members of the core planning committee and to each of our community housing partners for helping to change the lives of our neighbors!
Community Housing Partners
City of Charlotte, Housing and Neighborhood Services Department
Greater Matthews Habitat for Humanity
Habitat for Humanity of Charlotte
Real Estate and Building Industry Coalition (REBIC)
Thank you to our association partners!


Realtors® Care Day is a Canopy Housing Foundation initiative.
Find Realtors® Care Day on Facebook!