With a Realtor®, See It All Safely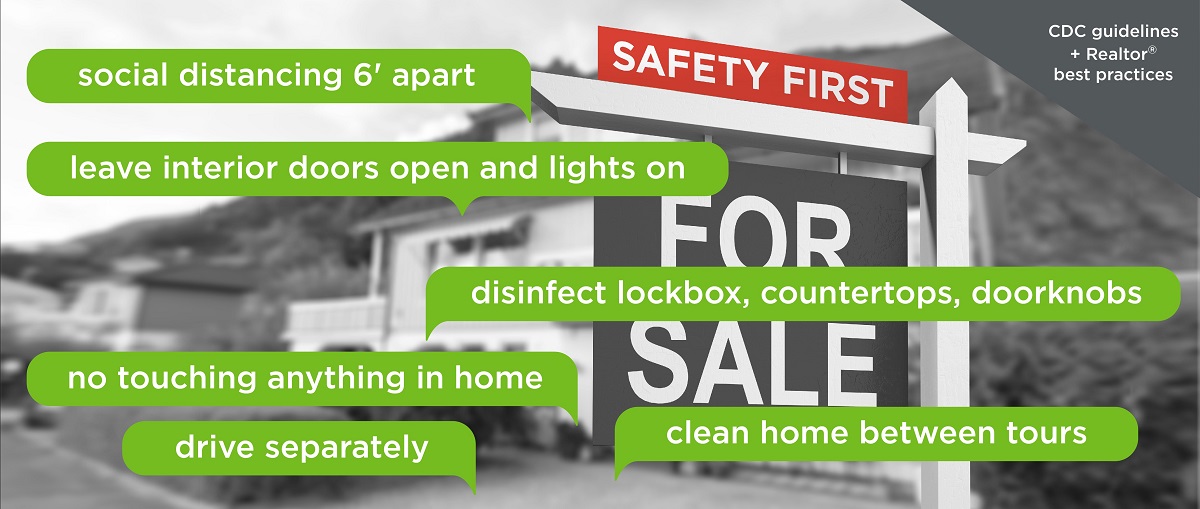 Now that restrictions have been eased slightly and the economy is beginning to re-open, Canopy Realtor® Association has launched a "safety and taking precautions" public service campaign.
The campaign is focused on raising awareness about the steps that Realtors® are taking with their clients to provide a safe experience during the home buying and selling process.
Talk with your Realtor® about what should be done when selling or buying a home.


The following guidelines are from the National Association of REALTORS®


During In-Person Showings


Adhere to social distancing recommendations, and maintain a minimum of six feet of space between persons at all times.


Avoid shaking hands with clients.


Limit the number of persons who may attend a showing, such as only four people total.


Require all persons entering a property to immediately wash their hands or to use hand sanitizer, remove footwear or wear booties, and wear a face mask or covering, and gloves.


Instruct buyers and others touring the home to avoid touching any surfaces in the home, such as light switches, cabinet and door handles.


Instruct buyers and guests not to use bathroom facilities at the property.


Do not share phones, pens, or tablets or other personal property during the showing.


Comply with any requirements of the seller during the showing.

After Showing Property


Wipe down any surfaces touched during the showing with a sanitizing wipe or disinfecting cleaner, as requested by seller, and suggest the seller also disinfect the property


Wipe down the key and lockbox with a sanitizing wipe or disinfecting cleaner after use.


Speak with buyers outside of the property or in a ventilated area while maintaining a distance of 6 feet, or arrange to speak by phone or email.


Do not provide any paper documents, and instead follow up with any information electronically after you leave the property.


Use hand sanitizer upon returning to your vehicle.


Maintain a detailed log of interactions to enable contact tracing, to include names, dates, and locations of interactions, as well as a party's contact information.


Precautions for Open Houses
In accordance with guidance from the Center for Disease Control (CDC) and the President, ensure that less than ten people are touring the home at any given time, and consider only allowing one buyer group to tour the home at a time.
Be sure that guests maintain social distancing of six or more feet apart, and require potential buyers to wash their hands or to use an alcohol-based hand sanitizer immediately upon entry and to remove shoes/cover footwear with booties.
Also, be sure to check with your client before using any cleaning products, and recommend that your client disinfect their home after the open house, especially commonly touched areas like doorknobs and faucet handles.