Realtor® of the Year and Rookie of the Year awards presented at Canopy Realtor® Association's Centennial Celebration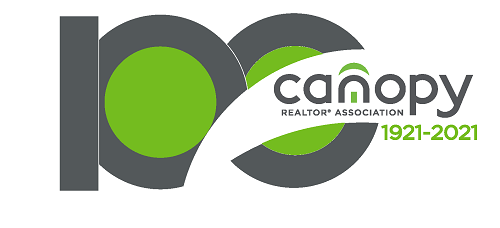 Dec. 14, 2021
Contact:
Kim Walker, 704-940-3149

CHARLOTTE, N.C. – Realtors® and real estate industry leaders gathered at the Charlotte Convention Center on Dec.10, 2021 to honor the legacy of one hundred years of excellence in leadership and service. Representatives from the National Association of Realtors® and NC REALTORS® recognized and celebrated this milestone, while joining some 500 Realtors® in honoring the Realtor® of the Year, Vane Mingle Rookie of the Year and Association volunteer leadership.
Industry awards
Laurie Knudsen, a veteran Realtor®/broker with Engel & Volkers, South Charlotte, was named the 2021 Realtor® of the Year. The award is the highest honor given by the Association and recognizes a Realtor® member who has made outstanding contributions to both the real estate profession and community.
With more than 25 years of experience in residential and luxury sales, Knudsen has always recognized the value of giving back and giving of herself. As a broker-in-charge of large and small firms over the course of her career, she has actively given of herself through training and mentoring programs. She realized early in the profession that service and the spirit of volunteerism strengthens one's career and has actively been involved with the Association for more than 15 years. During her successful real estate career, Knudsen has held many positions with Canopy Realtor® Association. Notably she has served as a Canopy MLS Board of Directors member, an Association's executive committee member as treasurer and ascended to the position of president of Canopy Realtor® Association / Canopy MLS in 2011. Her volunteerism also includes work at NC REALTORS®, where she served as a member of the Finance Committee and Professional Standards Committee. She has also served as a region representative for the National Association of Realtors®. Currently, she is serving a second term as treasurer for NC REALTORS® and also works as an adjunct instructor at Canopy Real Estate Institute.
Laurie is a dynamo of energy and notes her greatest joy in the real estate industry has been coaching and training agents over the years. When she is not running an office or training agents, she enjoys time with husband Rick, children and grandchildren.
Matthew Johnson, Realtor®/broker with eXp Realty, was named the 2021 Vane Mingle Rookie of the Year. This award is presented annually to a new Realtor® who excels in the profession. Winners must have been members of Canopy Realtor® Association for at least 12 months and must have closed at least 10 transactions within their first 12 months as a Realtor®. Winners must also be actively involved in charitable and civic organizations.
Johnson joined the association in September 2020 and closed 21 transactions during his first 12 months of membership while maintaining an active volunteer schedule. Johnson's path into real estate started during the pandemic. After being laid off, he was able to pivot and leverage 20 years of sales leadership, business development and recruiting experience to connect and guide consumers into homeownership. When not selling real estate Johnson can be found training nearly six days a week as an avid triathlete and three-time Ironman, readying himself for a charity bike run or running to raise funds and awareness for cancer and multiple sclerosis. He is currently on the Board of Managers for 24 Foundation an organization that supports those whose lives have been impacted by cancer. He is in his fourth year of fundraising with Bike MS and has fundraised with the American Brain Tumor Association where he participated in the 2021 Chicago Marathon. He has also run in a number of 5K events to support and benefit cancer research, most notably the Isabella Santos Foundation. He has also been an active volunteer with Quail Hollow Elementary School and Forest Hills Church, teaching and assisting students at Falcon Fun Night on a monthly basis.

The 2021 President's Award, an award given at the president's discretion to volunteers that go above and beyond the call of duty was bestowed upon Realtors® Sallie Myrick and Dottie Ciarrocchi, both of T.R. Lawing Realty. Myrick served as chair of Canopy Housing Foundation, overseeing a number of programs and events this year, including the Community Grants Celebration, Realtors® Care Day and Strides for Shelter 5K Run /Walk, which raised more than $26,000 for Hope House Foundation of Huntersville. Ciarrocchi served as chair of the Realtors® Care Day event, managing some 15 residential rehabilitation projects in Mecklenburg and Iredell Counties, along with a Food Drive in Mecklenburg and Haywood counties.

The 2021 Committee Chair of the Year Award was bestowed upon Realtor®/broker Cindi Hastings, of Cottingham Chalk Realtors®. Hastings was recognized for her service on the Association's Executive Committee this year as treasurer and as chair of the Audit, Budget and Finance Committee. Hastings also energized the membership to invest in RPAC and chaired a special task force to plan and ensure future Association leadership.
For more information, visit www.canopy100.com or contact Kim Walker for interviews.
---
Canopy MLS is a wholly-owned subsidiary corporation of Canopy Realtor® Association and is the private broker cooperative used by Realtors® to bring buyers and sellers together with access to thousands of residential listings in a multicounty service area, including Charlotte, the mountains area of North Carolina, South Carolina, and beyond. Canopy MLS, which has 21,000 subscribers, provides the most trustworthy, timely, accurate and complete property data along with proprietary tools for showings, market stats, predictive analytics, and more. Canopy MLS is used by its members to support consumers in their residential real estate transactions, whether selling, buying, investing or renting.
Original Publish Date: 12/15/2021