Realtors® Care Day Event FAQs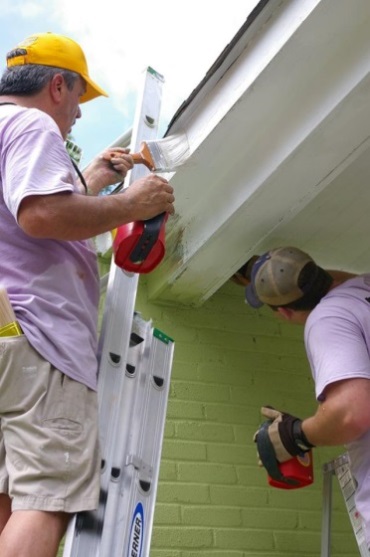 Who is eligible to volunteer for Realtors® Care Day?
Volunteer participants must be members of the Charlotte Regional Realtor® Association. No one under the age of 18 may be on the site.
How long is the volunteer shift?
The home site volunteer shifts are 7:30 a.m. to 4 p.m. Some jobs may be completed prior to 4 p.m, but we need volunteers who can commit to the full day. If you would like to participate but are unable to devote the entire day, please indicate this when you sign up online so we can find a volunteer opportunity to fit your schedule.
How difficult is the work? Do I need to be an expert?
There will be a wide range of opportunities. All project work will be assigned and supervised by a professional, so all skill levels are welcome! The most important thing you can bring to the job site is a giving spirit and willingness to roll up your sleeves to help others.
Do you want to know about my experience?
When you sign up as a volunteer online, you will have the opportunity to indicate relevant expertise and experience. While we welcome volunteers at all levels of expertise, we are eager to identify experienced do-it-yourselfers!
Can my spouse, family member or friend join me?
All volunteers must be Realtors® and association members. We appreciate the support of the community, however, and encourage those interested in helping to become a sponsor, in-kind donor, or "friend" of Realtors® Care Day (see below).
What if I want to support the effort but am not a Realtor®?
There are many opportunities for sponsors and in-kind donations, as well as opportunities for building industry professionals to lend their expertise. Learn more.
What types of volunteer assignments are available?
All home repairs are exterior, including the following tasks:
Basic rehab/minor construction improvement projects
General site clean-up
Gutter repair and replacement
Handicapped-accessible ramp construction
Landscaping
Painting
Window replacement
Volunteers not comfortable with physical labor can provide valuable assistance in other ways, including delivery of food and supplies to site locations (you may indicate this preference on the volunteer registration website).
Am I required to attend an orientation/training session before Realtors® Care Day?
No, your site captain will hold a brief orientation and safety instructional at the worksite. Volunteers should arrive at the site by 7:30 a.m. for check-in and orientation. You will receive on-site training for tasks to which you are assigned.
Where will I be assigned to volunteer?
We make every effort to match sites according to where our volunteers live or work. Your site captain will contact you with your site location and any additional information.
Will I work at more than one house on Realtors® Care Day?
All volunteers will be assigned to one specific home for the day; however, if your site finishes early, volunteers may be asked to go to another home if help is needed.
What should I wear?
Plan to dress comfortably and weather-appropriate. All volunteers will be given a Realtors® Care Day® t-shirt which must be worn throughout the day. For safety reasons, you must wear sturdy, closed-toe/closed-heel shoes. Boots and tennis shoes are appropriate footwear, though boots are preferred. Check the forecast before arriving at the worksite to determine the need for a hat, sunscreen, sunglasses or rain gear. You may also want to bring bug spray. If hard hats are required at your site, they will be provided.
Should I bring my own food or drinks?
Food and beverages will be provided. However, you are welcome to bring your own food as we cannot cater to special dietary needs or preferences. We also encourage you to bring additional water for the day.
Are restroom facilities available?
Yes. Portable toilets will be available on site. No one is permitted to enter a home to use the restroom.
What if it rains on Realtors® Care Day?
Much of the work can be performed during a light drizzle and a rain date is usually not needed. We will notify you via email and an announcement will be posted to this website if severe weather (thunderstorms or persistent rain) requires us to postpone the event.
What if I need to cancel?
We are counting on volunteers to uphold their commitments but we understand that in an emergency a volunteer may be forced to cancel. In this case, please contact your site captain (you will receive this information prior to the event) as soon as possible, or contact the Canopy Housing Foundation staff. If possible, please try to find a substitute.
Find Realtors® Care Day on Facebook!

Realtors® Care Day is a Canopy Housing Foundation initiative.