Realtors® present industry awards and donate toys and toiletry items to The Relatives

December 16, 2019
Contact: Kim Walker, 704-940-3149
CHARLOTTE, N.C. – With the holidays just around the corner and another year of real estate sales behind them, more than 450 Realtors® gathered Friday at the Crowne Plaza Charlotte Executive Park for the Canopy Realtor® Association/Canopy MLS 2019 Holiday Awards Luncheon and Annual Meeting. Members participated in Canopy Housing Foundation's annual silent auction, which raises funds to help support local unmet housing needs, and also paid tribute to outstanding real estate industry leaders and association volunteers. Attendees also donated hundreds of unwrapped toys and toiletry items to The Relatives, an organization that assists children in crisis.
Industry awards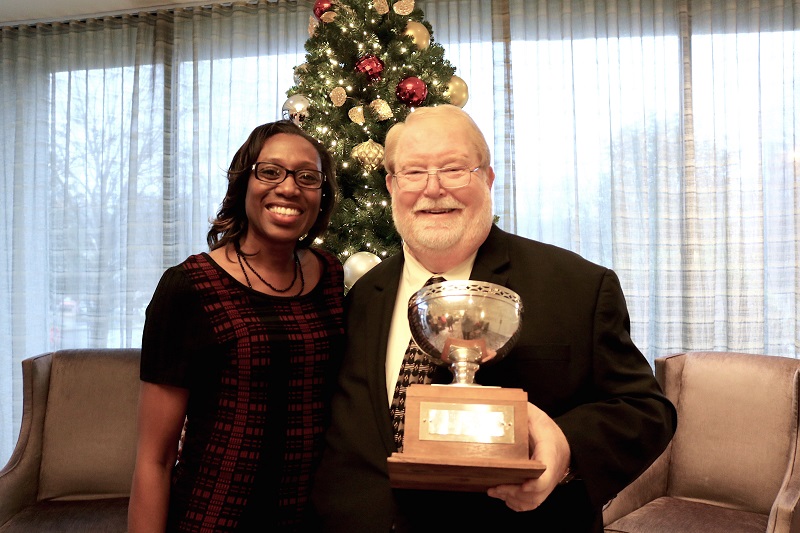 Lamar Kellar, a veteran Realtor®/broker with Jerry Kellar Real Estate and long-time Canopy MLS Board of Directors member representing Gaston Association of Realtors®, was named the 2019 Realtor® of the Year. The award is the highest honor given by the association and recognizes a Realtor® member who has made outstanding contributions to both the real estate profession and the community. Kellar, whose service to the industry spans more than 40 years, has represented the association and MLS on the national, state and local level serving on a number of industry-related committees.
A multi-million-dollar producer throughout his real estate career, Kellar's experience has spanned the gamut from sales, to manager, to broker-in-charge. His service to the industry has allowed him to lead Gaston Association of Realtors® in a number of capacities including president, vice president, secretary and treasurer from 1987-1991. His historical knowledge of real estate processes over the years has made him invaluable to Canopy MLS, where he has served on a number of taskforces that provided guidance as the MLS converted from a manual process to computer-based data systems. Kellar has been instrumental in the regionalization and expansion of Canopy MLS, and he has served on the Canopy MLS Board of Directors from 2003 to the present. On the state level he has served as NC REALTORS® Region 7 Council Member (1991), NC REALTORS® Region 7 Vice President (1995-1996), as well as several taskforces and committees for the state association. On the national level, he has served on the Affordable Housing Committee (1997), Equal Opportunity Committee (1995-1996) and as a National Association of REALTORS® Convention Delegate (1990). Because of his extensive service to the Gaston community, Kellar has been a two-time recipient of the Gaston Association of Realtors® Realtor® of the Year award (1990, 1994) as well as a recipient of the Gaston Association of Realtors® President's Service Award (1987,1989,1990).
Ever civic and community-minded, Kellar has been deeply involved in the Gaston County community, where he has served as a deacon and Sunday School teacher for his church and has been involved with the Rotary Club of Gastonia from 1985 to the present. He has served Gaston County as a member of the taskforce to rewrite Gaston County's Minimum Housing Ordinance (1998) and as a member of the Human Relations Committee (1989-2000). Kellar has also trained and served as a mediator for the Mediation Center of Southern Piedmont (2005-present) and was a member of the Gaston Chamber Leadership Gaston (2004-2007).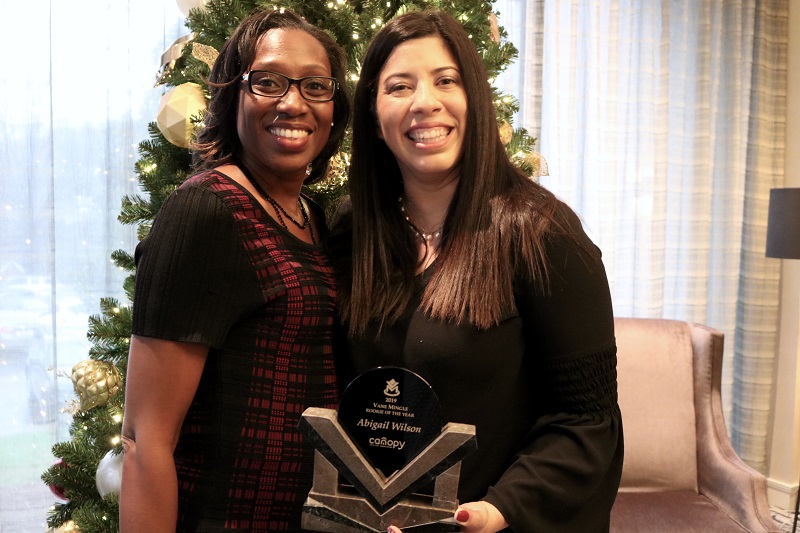 Abigail Wilson, a Realtor®/broker with Keller Williams Ballantyne, was named the 2019 Vane Mingle Rookie of the Year. The award is presented annually to a new Realtor® who excels in his or her new profession. Winners must have been members of Canopy Realtor® Association for at least 12 months and must have closed at least 10 transactions within their first 12 months as a Realtor®. Winners must also be involved in charitable and civic organizations. Wilson joined the association in 2018 and closed 11 sales during her first 12 months of membership while maintaining a busy volunteer schedule over the course of the year. She is extremely active with her local church, where she serves as Children's Ministry Coordinator and manages a number of volunteers and emerging leaders at the church. Wilson's extensive work with her church has allowed her to participate in service and outreach programs in support of a number of local organizations as well as third-world countries. Locally, her service has included outreach to the Boys and Girls Club, Carrington Nursing Home, Common Heart Food Pantry Store and Food for Families. She is also a Volunteer Liaison at Tree House, which is affiliated with Turning Point, where she coordinates volunteers and volunteer opportunities. In the short amount of time she has been with her firm, she has received the Emerging Agent award, Capper award and Rising Star award.
The 2019 Committee Chair of the Year Award was bestowed upon Joan Goode, Realtor®/broker with Dickens Mitchener & Associates. The award is given annually at the president's discretion to a chairperson who goes above and beyond the call of duty. Goode, an avid runner and creator of the Strides for Shelter 5K Walk/Run, an event that has been successfully embraced and supported by the Charlotte community, has served as the chair of the Strides for Shelter 5K committee for the past four years. Under Goode's direction, the 5K, which began in 2016 with approximately 280 participants and raised $5,000, has grown to more than 500 participants and raised $25,000 in 2019. Goode has been a member of the association since 2005 and continues to serves on a number of other association committees as well.
As a part of the Holiday Awards Luncheon and Annual Meeting, members bring donations in support of charities spotlighted and supported by Canopy Housing Foundation. This year association members gave away hundreds of donations of toiletries, toys and other items that included blankets, gloves, umbrellas and hygiene items to The Relatives, an organization that provides emergency shelter and supports area youth in crisis. Members raised enough donations to stuff a new 15-passenger van that had recently been purchased by The Relatives with funds raised by this year's Strides for Shelter 5K Run/Walk.
For more information, visit www.CarolinaHome.com. For interviews please contact Kim Walker.
---
The Charlotte Regional Realtor® Association is a trade association that provides its more than 11,700 Realtor® members with the resources and services they need to conduct ethical, professional, successful, and profitable businesses. The Association is dedicated to being the region's primary resource for residential real estate information. The Association operates Canopy MLS, which has more than 17,900 Subscribers and is the private cooperative Realtors® use for access to tens of thousands of residential listings in a 24-county service area, including Charlotte, the mountains areas of North Carolina, South Carolina, and beyond.
Original Publish Date: 12/16/2019