Canopy Housing Foundation names Nancy and Amy DeCaron, mother-in-law/daughter-in-law team, as 2019 Humanitarians of the Year

Dec. 16, 2019
Contact: Kim Walker, 704-940-3149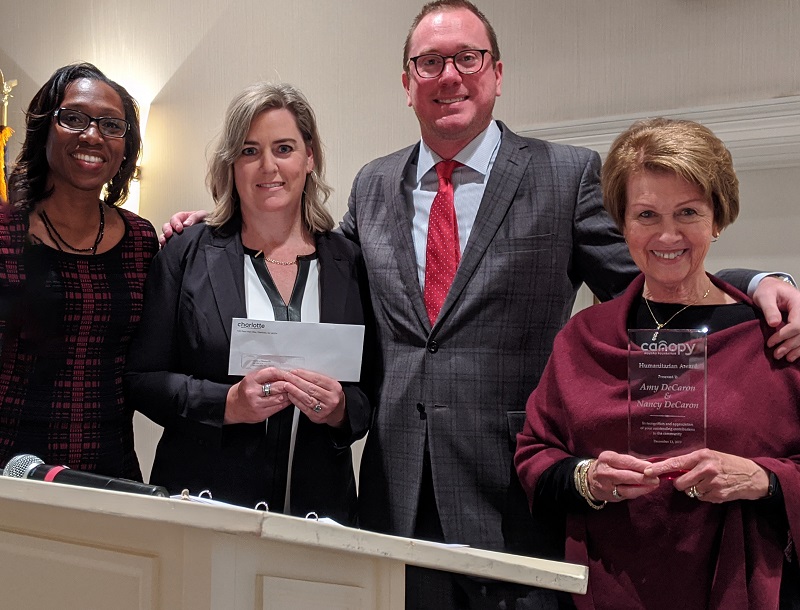 More than 400 Realtors® gathered Friday, Dec. 13, 2019, at the Crowne Plaza Charlotte Executive Park for the Canopy Realtor® Association/Canopy MLS Holiday Awards Luncheon & Annual Meeting. Members paid tribute to outstanding real estate industry leaders and association volunteers and also recognized the 2019 Canopy Housing Foundation Humanitarians of the Year, Nancy and Amy DeCaron.
In 2014, as the Charlotte area's housing market roared back to life and population growth exploded throughout the region, the 2019 humanitarians, who call Mooresville home, watched as the homeless population also started to grow in the Mooresville area. Nancy DeCaron questioned where people experiencing homelessness went in the winter, and as she and her daughter-in-law, Amy DeCaron, sought answers to that question, they soon found themselves researching, raising money and advocating on behalf of people experiencing homelessness. After three years of spreading awareness and fundraising in the Mooresville community, the DeCaron mother-in-law/daughter-in-law team and their small army of volunteers had raised $300,000 to build and open Hope of Mooresville (HOMe) in December 2017.

Currently, Hope of Mooresville serves as the only temporary housing facility for women and children experiencing homelessness in Mooresville. The shelter, known fondly as HOMe, has a mission to provide safe and restorative shelter, food and support services such as job placement, family care, mental health assistance, financial planning and addiction help for its clients. The shelter also has volunteer mentors who serve as life consultants in the areas of child rearing, family relations and work relations.

Because of the tenacity and hard work of this mother-in-law and daughter-in-law team, HOMe has served 42 clients with more than 4,700 "bed nights" since opening in December 2017. Thirty-four of their clients have been able to purchase their own homes after working through the DeCaron's mentoring and educational programs. HOMe has successfully reduced Mooresville's homeless population by as much as 28 percent since opening its doors.
As a result of so much success in such a short amount of time, Nancy and Amy have redesigned the program and launched "Homeless to Homeownership" through a recent partnership with Habitat for Humanity, which, starting in 2021, will allow the program to build three new homes for the homeless population every year.
"These humanitarians truly embody the spirit of this award. Their commitment to the issue of homelessness is truly a calling, and we can all take inspiration from Nancy and Amy's vision and dedication that resulted in their tremendous contribution to the Mooresville community. It should serve as a reminder that sometimes one small act or contribution can make a world of difference in the lives of others while impacting an entire community," said Association/Canopy MLS President Brenda Hayden.

As the Canopy Housing Foundation's Humanitarian Award winners, Nancy and Amy DeCaron received a commemorative crystal award and the ability to designate a charity of their choice to receive $5,000 from the Foundation. Hope of Mooresville or HOMe will be the recipient.
About Canopy Housing Foundation
Canopy Housing Foundation (formerly Housing Opportunity Foundation) is the charitable-arm of Canopy Realtor® Association. The Foundation works to create a community where all housing needs are met, with a mission to create housing opportunities through advocacy, education, funding and leadership.
For more information, about the Association or the Foundation visit www.CarolinaHome.com. For interviews, please contact Kim Walker.
---
Canopy Housing Foundation is the charitable arm of the Charlotte Regional Realtor® Association and is dedicated to funding, education, advocacy and leadership programs that are focused on fair and affordable housing and workforce-housing initiatives. The Foundation serves to position and educate Realtors® as leaders, promote homeownership and provide funding to create housing opportunities.
Original Publish Date: 12/16/2019