Realtors® improve lives and housing during Realtors® Care Day

Sept. 20, 2021
Contact:
Kim Walker, 704-940-3149

CHARLOTTE, N.C. – Canopy Housing Foundation's Realtors® Care Day (RCD) event, returns this year after being sidelined by the pandemic that caused a number of businesses, retailers and economic activity to come to near stand-still last April, which is also recognized as National Fair Housing Month and typically the month when the Realtors® Care Day project is held.

Some 300 Realtor® volunteers will spend Friday, September 24, from 8 a.m. to 5 p.m. working side-by-side, helping the elderly, disabled and homeowners in need with exterior home repairs, safety modifications and landscape work on 14 homes and community sites located in Mecklenburg and Iredell counties and facilitating a food drive in Canopy's Western Region of Haywood county.

"Last year's pandemic and this year's flooding in the mountains greatly impacted the lives of some of the most vulnerable in our communities, and the Realtors® Care Day project gives our volunteers and those within the industry an opportunity to truly make a difference in the lives of our neighbors in helping to maintain and sustain affordable housing within our communities." said David Kennedy, president of Canopy Realtor® Association/Canopy MLS.

Since 2009, thousands of Realtor® volunteers equipped with hammers and nails, and armed with a passion to give back, have collaborated in the all-hands on deck event that brings together city/county leadership, housing nonprofit partners, contractors, home inspectors and touches the lives of homeowners as far away as Haywood County in the mountains of NC to Iredell and Mecklenburg Counties here in the southern piedmont. To date Canopy Housing Foundation's annual RCD project has assisted more than 285 families and individuals. The overall economic impact is more than $1 million.

Kennedy added, "Realtors® care deeply about the communities where they live, work and play and see this service project as a call to action, and are honored to work alongside a number of our housing partners, like Habitat for Humanity Charlotte and Greater Matthews Habitat for Humanity. Habitat projects are a much-needed component of affordable housing and provide families with safe, affordable, healthy, and stable housing."

Realtor® crews typically undertake a number of projects at individual homesites, from repairing gutters and painting home exteriors to debris clean-up and heavy yard work to improve access and safety. Like a number of past RCD projects, the 2021 event will feature three large community efforts to assist Fifth Street Ministries, Grace-Mar Services and The Community Kitchen. More information on what will be done at each site is listed below.

"I've volunteered on this project for a number of years now, but I'm truly in awe and humbled by the excitement of our industry partners and volunteers, who eagerly set aside this day, roll-up their sleeves and answer the call to help our neighbors," said RCD Chair Dottie Ciarrochi. "Our Realtor® volunteers could not do this project without professional assistance from our strong network of sponsors, partners, contractors and home inspectors."

Working hand-in-hand with a number of community partners, the Foundation is pleased to continue its nearly 12-year collaboration with the City of Charlotte Housing and Neighborhood Services, City of Charlotte Code Enforcement Department, Greater Matthews Habitat for Humanity, Habitat for Humanity Charlotte, and the Real Estate and Building Industry Coalition (REBIC).
Over 300 volunteers participated this year. See their work!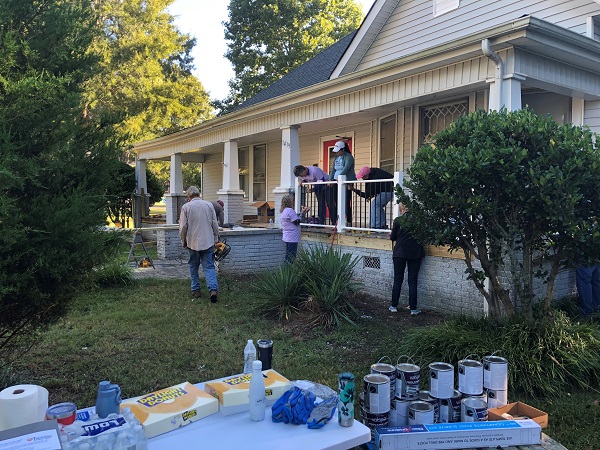 MEDIA COVERAGE OPPORTUNITIES: Friday, Sept. 24 (9:30 a.m.-noon)
Canopy Realtor® Association and Foundation leaders, nonprofit partners and Realtor® volunteers will be available for media interviews during the designated time period at the following media sites.
Grace-Mar Services, 322 Dare Dr., Charlotte, NC 28206
Realtor® volunteers will be doing extensive yard work, removing debris, digging up a brick walkway, removing current stairs and installing wider stairs and adding footing six feet apart to reinforce and support a porch.
Fifth Street Ministries, 1421 5th St., Statesville, NC 28677
Realtor® volunteers will be working at the Path House to repair and paint the front and rear steps and railing in addition to the ramp, front porch and foundation. Landscaping will also be done along with correcting erosion at the entrance area.
Haywood Co. Food Drive to Restock The Community Kitchen (394 Champion Dr., Canton, NC)
The Foundation's western region Realtor® volunteers have planned a food drive to help restock The Community Kitchen in Canton, NC that was nearly destroyed by flooding from Tropical Storm Fred. Realtors® will be collecting food on Friday, September 24th at the Waynesville Rec Center Tennis Court parking area on W. Marshall St. (drop offs between 10:00am and 2:00pm).
RCD values the continued support of local businesses and organizations including the support and financial logistics management of Lowe's Home Improvement. Lowe's has supported Realtors® Care Day by developing a process for the organization, as well as handling management and delivery of materials to Realtors® Care Day sites. Lowe's staff shows extraordinary support throughout the day in meeting the project needs until all sites have been completed.
---
Canopy MLS is a wholly-owned subsidiary corporation of Canopy Realtor® Association and is the private broker cooperative used by Realtors® to bring buyers and sellers together with access to thousands of residential listings in a multicounty service area, including Charlotte, the mountains area of North Carolina, South Carolina, and beyond. Canopy MLS, which has 21,000 subscribers, provides the most trustworthy, timely, accurate and complete property data along with proprietary tools for showings, market stats, predictive analytics, and more. Canopy MLS is used by its members to support consumers in their residential real estate transactions, whether selling, buying, investing or renting.
Original Publish Date: 9/20/2021